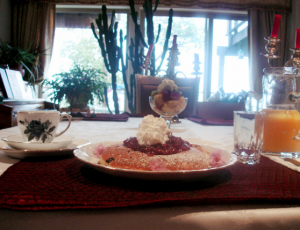 After a refreshing night's sleep, wake up to a healthy and hearty breakfast. Each day of the week, we bring a different breakfast specialty to your door, served hot and fresh in the comfort of your room.  Or relax in the sunshine as we serve you breakfast on the patio.
All our delicious breakfasts are served with coffee or tea, orange juice and fresh fruit salad. Please let us know of any food allergies or special diets so that we can make your breakfast just right for you.
Monday
Egg Blossoms: Phyllo pastry, butter, parmesan cheese, fresh farm eggs, fresh green onions. Served with a Parfait of granola, fresh fruit and yogurt.
Tuesday
Belgium waffles, served with homemade syrup made with local fruits and berries
Wednesday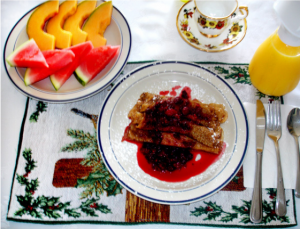 Omelet: Fresh farm eggs, mushrooms, ham, mozzarella cheese, fresh green onions. Served with a side of toasted home-baked bread.
Thursday
Russian Crepes rolled with honey and butter served with homemade berry syrup
Friday
Fresh farm eggs over easy, bacon, toasted home-baked bread, homemade hash browned potatoes and fresh green onions
Saturday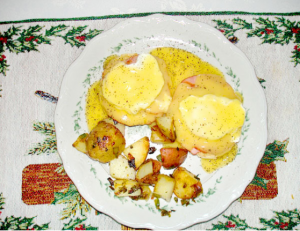 Apple pancakes served with homemade syrup made from local fruits
Sunday
Eggs Benedict: Fresh poached farm eggs, ham, English muffin, hollandaise sauce. Served with homemade hashed brown potatoes
Dining Experience
Our guests tell us that our daily breakfasts are one of the highlights of their stay. We take pride in serving you delicious food made with the freshest ingredients:
Our own home-baked bread

Jams and jellies made with local fruits and berries

Homemade syrups (as well as old favourites)

Free-range eggs from our own chickens

Fresh produce from our gardens

Seasonal fresh fruit (from our island and beyond)