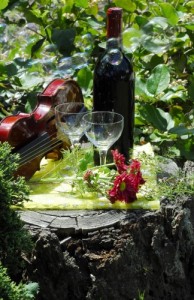 No problem….Armand Heights Bed & Breakfast has it covered!
Whether you are on your honeymoon, celebrating a special anniversary, or escaping for a well-deserved girls' getaway, your host Irina will help make your special occasion one to remember.
Order ahead of time and Irina can outfit your room with roses and champagne, or Irina's award-winning blackberry wine. Fresh fruits and berries, local artisan cheeses, or handmade Salt Spring Island chocolates can be delivered to your room. Or let us make dinner reservations for you at one of our island's fine restaurants.
Just tell us about your special occasion, and we'll work with you to make it beautiful and memorable.
Tell us about your occasion and we can let you know what we can do for you to make it something special.